Product Description
Product Description
Product Application of  steel rebar rolling mill 
1. Final product: 5.5-12mm wire rod, 8-32mm rebar, 40-120mm round bar,strip steel etc;
2. Raw material: steel scrap or billet
(billet section size:60*60mm,80*80mm,100*100mm,120*120mm,130*130mm,150*150mm,180*180mm etc;
length: 3m,6m or 12m )
3. Annual capacity: 50,000T/Y; 100,000T/Y; 150,000T/Y;  200,000T/Y;   300,000T/Y; 500,000T/Y;  800,000T/Y etc.
4. Steel type:Low carbon steel, middle carbon steel, high carbon steel,quality carbon structural steel, alloy steel, cold heading steel ,welding steel,titanium alloy,tool steel etc.
Main Features:
1) Complete continuous rolling,control rolling,control cooling rolling process setting.
2) Adopting advanced world famous brand components in machine key parts ,electric parts and operation parts. 
3) The rolling process is smooth,finished products have high precision and quality with high production yield.
4) Running in a high automatization and intellectualization,save manpower.
5) Comprehensive service for equipment supply, layout design, after-sales installation and commissioning services.
Detailed Images:
Roughing/intermediate angle steel hot rolling mill                
Name:Housingless Mill "short stress  path"                             
Brand:Hangji
Original: China
Feature:
— Long roll lifetime.                                                                
— The roll gap neutrality better and easy to operate.              
— Fast roll change, high automation efficiency etc.             
— Short stress line model much better for wire rod              
   and bar production.                                                                                                                                                                     
Wire rod block mill/monoblock                
Name:Top cross 45 ° no twist heavy duty block mill train 
Brand:Hangji
Original: China
Feature:
— High load capacity
— Low maintenance oil film bearing design     
— Multi-groove rolls for maximum roll utilization
— Universal stand design allows interchangeability from 1 stand position to another 
— Interlocks with mill controls
Finishing mill(wire rod block mill/monoblock)
Name: Top cross 45 ° no twist heavy duty block mill train
Brand: Hangji
Modle: 90m
Original: China
Feature:
— Unmatched production levels
— Improved laying pattern and coil package
— Minimized vibration and downtime
— Patented technology
— Electric linear actuator replaces hydraulic lines
— Retrofits available for existing High Speed Laying Heads
Our Company
Professional Manufacturer and Service Solutions Provider For high-speed wire rod /rebar production Line
HangZhou WeiKeduo Electrical and Mechanical Equipment Co., Ltd. with over 20 years experience in metallurgical industry, commits to high quality rolling process design and hot angle steel hot rolling mill manufacturing for  wire rod, bar,rebar, tmt bar and other special steel production line,especially good at high-speed line design,as well,comprehensive installation guidance service. 
As a high-tech enterprise with ISO9001 certification & EU, BV certification, "Hangji" brand is well known in China and overseas, with more than 10 patents for steel rolling mahines, HangZhou CZPT has the steel Bar and Wire rod Research Center in HangZhou with a complete R & D, production and after-sales service system
Our Service
Pre-Sales Service:
* Inquiry and consulting support. 
* Sample testing support. 
* Visiting our Factory.
 
After-Sales Service:
* Training how to instal the machine, training how to use the machine and commissioning.
* Engineers available to service machinery overseas.
                                             Please contact us freely if any need
| | |
| --- | --- |
| Rolling Shape: | Bar, Wire |
| Product: | Steel Ball, Profile, Rolling Beam, Steel Billet, Wire Rod ,Rebar,Tmt Bar |
| Roller Position: | Vertical |
| Roller Number: | Two-High |
| Layout: | Continuous |
| Type: | Hot Rolling Mill |
Customization:

Available

|

Customized Request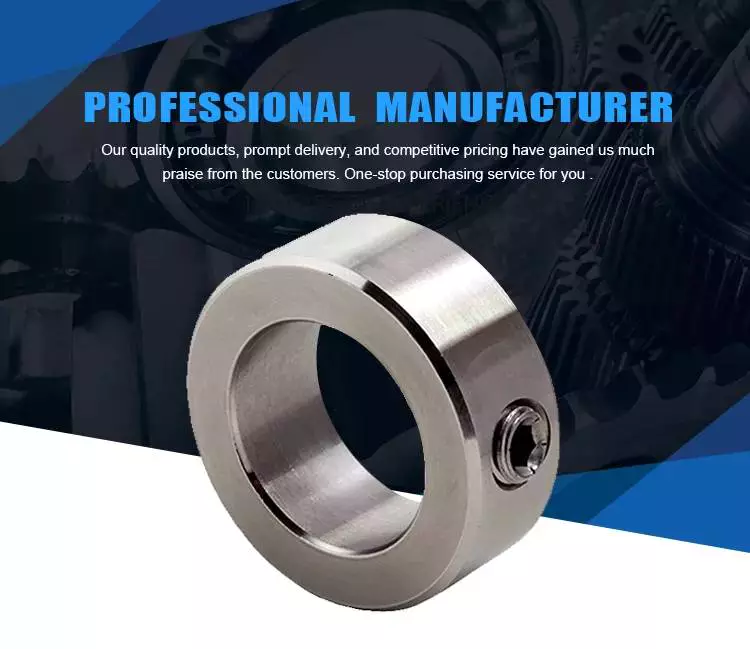 Types of Shaft Collars
Clamp style shaft collars
A variety of styles of shaft collars are available for your machining needs. Clamp style shaft collars offer better flexibility and hold better than set screw collars. They are best for shaft materials that are softer than a setscrew. Clamp style collars are generally easier to maneuver, as they are two-piece and are hinged along the shaft.
Clamp style shaft collars come in two-piece and one-piece designs. One-piece clamp collars are typically used for a single-piece shaft, while two-piece clamp collars are used for multiple shafts. The one-piece clamp collar provides a more uniform holding force, while two-piece clamp collars provide more clamping force and can be installed anywhere on the shaft. Both styles are available in English and metric measurements.
The holding power of Clamp style shaft collars depends on their bore size and concentricity. The fastening hardware also affects torque transmission. Forged screws are generally stronger than broached screws, and are less likely to ream out. However, you still need to make sure that the material of the collar is strong enough to withstand the recommended screw torque.
Clamp style shaft collars are available in 1215 lead-free steel with a black oxide finish and zinc plating, as well as 303 and 316 stainless steel. They are also available in 2024 aluminum with an anodized finish. They are available in a range of sizes from 1/8" to six inches and 3mm to 150mm.
One of the main benefits of Clamp style shaft collars is their versatility. The collars can be used as guides, spacers, or stops on a variety of medical equipment. They are designed to distribute compression forces around a shaft, and they can be added at any stage in the manufacturing process.
Set screw shaft collars
Set screw shaft collars are used to secure screws to shafts. They can be purchased in a variety of sizes. The external diameter, internal diameter, and width of the collar will determine the proper collar size. Some companies also offer custom and adjustable-width collars. Clamp-style shaft collars are easier to maintain, and distribute torque evenly across the shaft. They also offer twice the holding power of set screw collars.
Collars are available in metric and inch sizes. They are also available in zinc plated and black-oxide steel. In addition, they come in a variety of styles. Whether you're looking for a custom collar, or something a little more conventional, you can find it with the help of an ISO-certified supplier.
Set screw shaft collars come in different sizes and materials. Socket collars, for example, are made of steel and have an inside diameter of 5/64″ to 1-1/8″. In addition, forged socket set screw shaft collars come in 3/16 to 4 in. They are also available with special hardware for connection to shafts.
Set screw shaft collars are commonly used on transmission and machinery. A set screw allows you to secure the collar in position by setting it into the correct position with a grub screw or a set screw. The set screw can then be adjusted with a screw driver and is a quick and easy solution for keeping a shaft in place.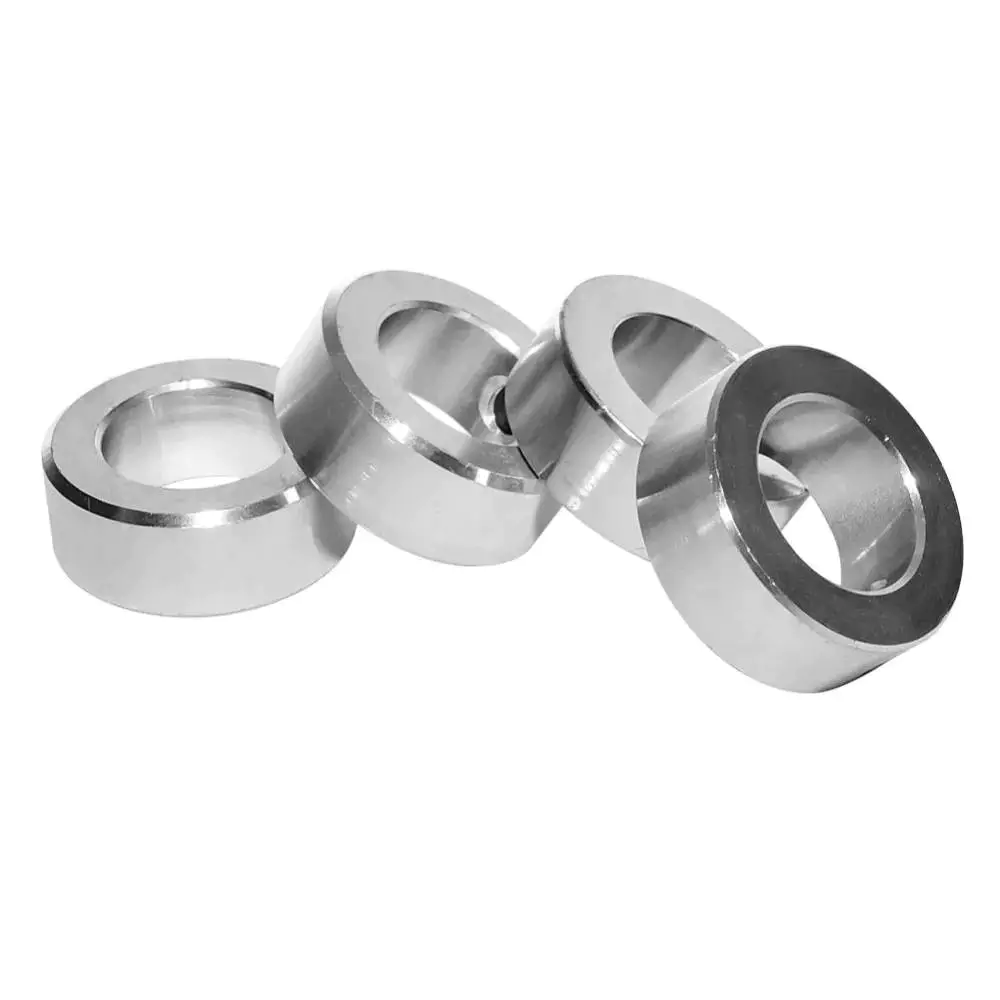 Aluminum shaft collars
Aluminum shaft collars offer a number of advantages, ranging from their light weight to their corrosion resistance. Aluminum shaft collars are available in various styles and sizes, and can be plated with a variety of finishes. They are also available in lightweight styles for applications with tight space constraints. The most important factor when selecting a shaft collar is the material used to make it. Aluminum is lighter than steel and has a high strength to weight ratio. The choice of material should also depend on how much corrosion resistance is required. For example, if the shaft will be exposed to extreme environments, it is a better choice to use treated steel.
Another benefit to aluminum shaft collars is their ability to be custom-matched to the shaft. This feature helps to increase their aesthetics and branding potential. In addition, the ability to color-code components and switches can improve safety. This is especially useful in fail-safe applications. By incorporating color-coded collars, manufacturers can increase the safety of their products.
Another advantage of aluminum shaft collars is their strength. For instance, they can withstand higher torque levels than other types of shaft collars. They can be easily adjusted, and their two-piece design makes them easy to replace. Moreover, CZPT keeps the two-piece collars together during manufacturing, ensuring a perfect fit for the shaft. These collars also feature forged steel socket screws for enhanced holding power and torque capacity.
Single-piece shaft collars are also available in various styles. The set screw type has a perpendicular outer face. The set screw in these collars is used to engage the mating shaft. This type of shaft collar is a good choice for rotating assemblies.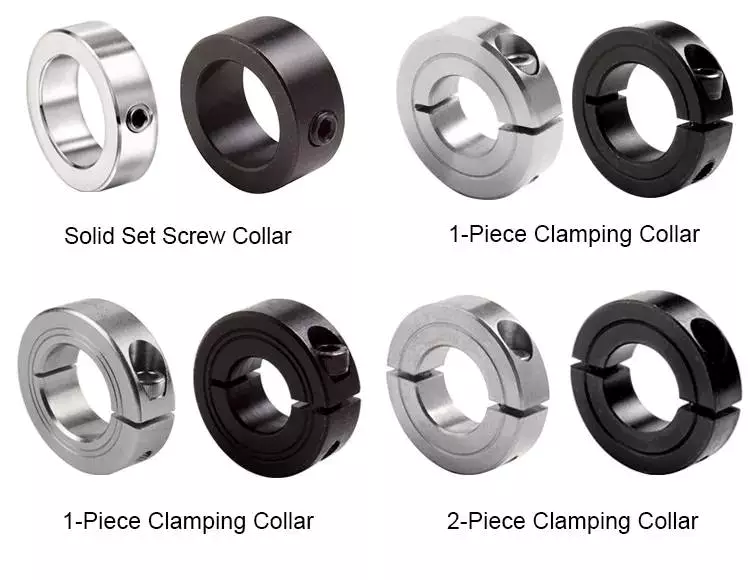 Stainless steel shaft collars
The main function of a stainless steel shaft collar is to provide clamping force to a rotating shaft. This is achieved by a variety of methods. One of these is by bending or hammering. A shaft collar can also be made of aluminum or a combination of both. These options provide different advantages, which are described in this article.
Stainless steel shaft collars are available in different sizes, shapes, and materials. The diameter of the shaft collar may range from five-sixteenths to two-and-a-half inches. Some manufacturers produce the collars in different materials, including T304, T316, 416, and 17-4PH. Their products may also come in various shapes, such as angles, flats, structural shapes, and threaded rods.
One of the most important advantages of a stainless steel shaft collar is its strength and durability. A well-made collar can prevent wear and tear and provide excellent holding power. It also has many applications and is useful in many industries. Its application ranges from vertical conveyors to horizontal athletic equipment machinery, from agriculture to retail.
While there are numerous types of shaft collars, all three types have some common characteristics. Typically, steel shaft collars have high holding power and slim to average profiles. Heavy-duty collars have twice the holding power of low-profile collars and are used in heavy-duty construction and mining. Ultra Heavy-Duty shaft collars have the highest axial holding power and are made of steel. Shaft collars may be treated with zinc for corrosion resistance.
One manufacturer offers stainless steel shaft collars made of 303 stainless steel and other materials. It offers collars of various diameters from three-eighth to one-eighth inch. They are available in threaded, mounting, and heavy-duty styles, and are suitable for a wide range of applications, including the aerospace, energy, and medical industries.




editor by CX 2023-06-05